Frequently asked questions
What size are the paintings?
---
Clicking on each product in the Shop will tell you the approximate measurements. Below you can see two reference photos demonstrating the size in comparison to a dollar bill.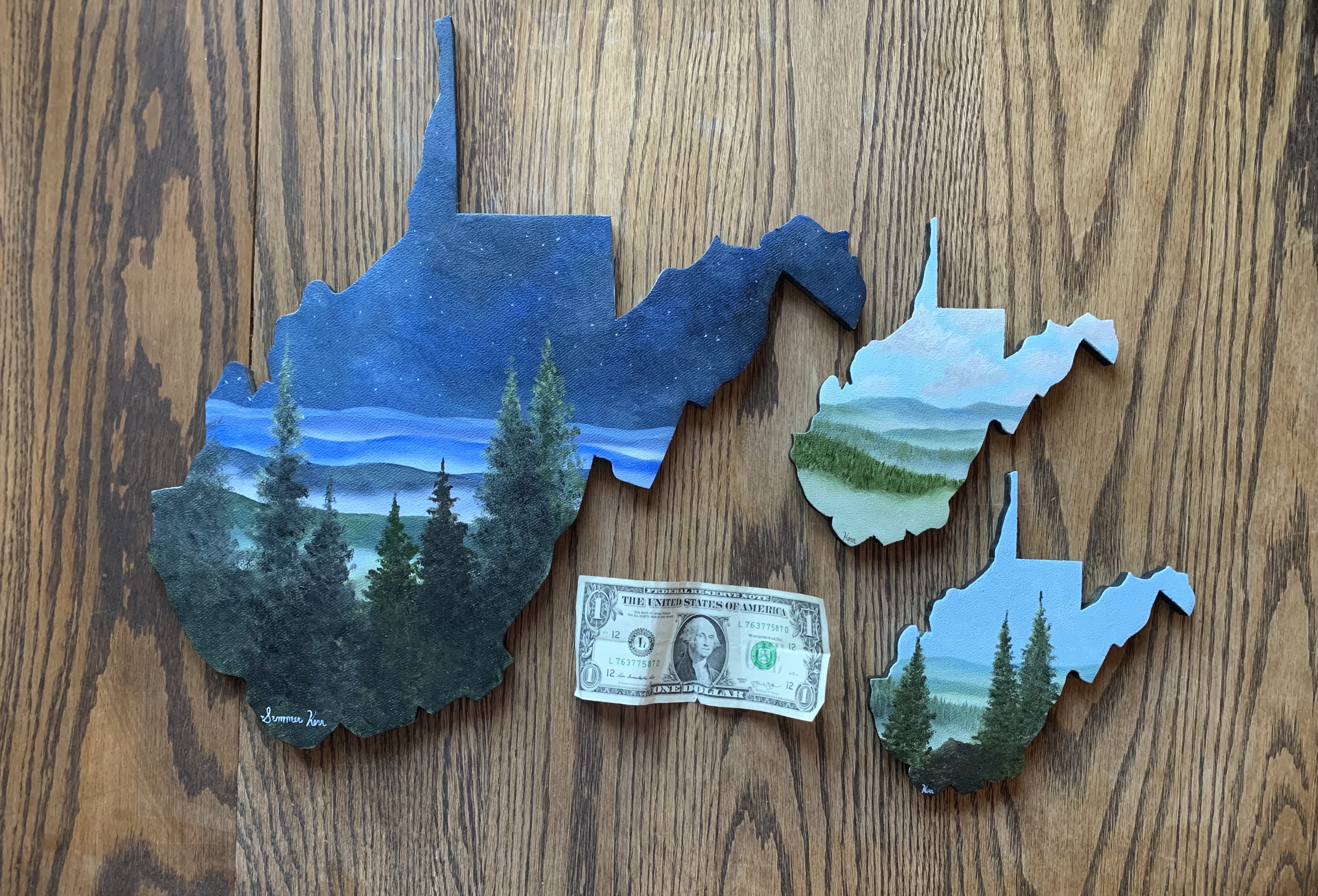 WV SIZING Large West Virginia (Left) Approx. 15 x 15 Mini West Virginia (Right) Approx. 7 x 7 --------------------------------------------------VIRGINIA SIZING Large Virginia paintings pictured with a dollar bill. Large Virginia(pictured) Approx 17 x 8 Small Virginia (not shown) Approx 12 x 5.5
---
Do you take commissions? Can you paint a picture I have?
---
Sometimes. I only accept requests I feel confident I can replicate well. You can reach out via my contact form if you have a specific request. I have taken on requests in the past that involve similar scenes to my style or other state shapes. I only paint landscape scenes- no animals, houses, or portraits are accepted. View more info here: https://www.summerkerrart.com/post/custom-christmas-orders
---
Can you paint a different state shape?
---
Yes! If you have a request for a state, let me know via my contact form or email me at summerkerrart@gmail.com There is a $15 setup charge for a new shape.
---
When are new paintings added?
---
I try to add one new painting to the shop a week. However, sometimes that does not happen due to filling requests for customers, gallery shows, or my schedule is overbooked.
---
What takes so long? What's the process?
---
It takes 4-6 weeks for a state painting from start to finish. It takes two weeks to prep the wood. Additionally, oil paints are known for their slow dry time. It typically takes 2-4 weeks for the painting to dry and be ready for varnish. However, I have had paintings take up to two months to dry!
---
How can I contact you?
---
You can contact me via my contact form or email me at summerkerrart@gmail.com
---
How do I buy one?
---
Go to the shop to view the available products for sale. Viewing each product will tell you the size, shipping, and other details.
---
Do you have events?
---
Yes. I have partnered with businesses to paint live and have displays. Due to COVID, all craft fairs/festivals I was scheduled for in 2021 were cancelled. All business inquires for events and gallery displays please reach out via email: summerkerrart@gmail.com
---
---